✈️ Try all Wakeouts for free
👋 Hello Wakeout friends! I'm Pedro Wunderlich, designer and co-founder of Wakeout. Thank you for being a subscriber.
Here's the summary of Wakeout Issue #34:
⏰ Last week's issue, Reclaim your time, is one of our most read issues of all time. In it, we detail 5 effective techniques to make more time for the things you love.
✈️ Today we're releasing the much anticipated Airplane Wakeout pack. 50 wakeouts and 10 routines to make long flights more bearable.
🎁 In addition to the new Airplane Wakeout pack, we've now made ALL wakeout locations available for free for you to try if you're not a subscriber. You be able to do all single wakeouts from every location for free. Download now as this might not last long.
🎒Finally, with the new update we're adding the ability to download Wakeout locations for super fast, offline use.
Wishing you a healthy, active week!
✈️ Why stay active on long flights?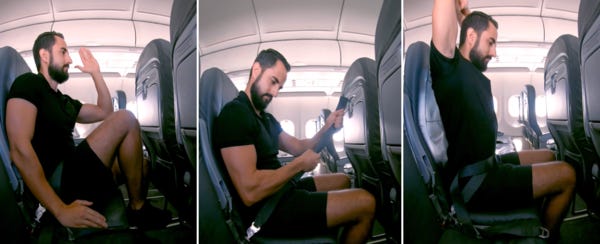 My wife and I took a 14-hour flight to Japan for our honeymoon last year. Both of us are very active people, so we planned an exercise regimen for the flight. Every couple of hours, we would stand up, walk around, do a few squats, lunges and stretches. Not only did it make the flight more bearable, we felt great when we finally landed, ready to explore crazy Tokyo.
Sitting for too long is terrible for your health. Research suggests that sitting for too long weakens your brain's performance, increased risk for cancer and diabetes, and is linked to an overall increased risk of early death.
Long flights can be brutal for your health, but my wife and I realized how this can be remedied with short bursts of exercise every couple of hours.
Today we're releasing the Airplane Wakeout pack for those long flights. They'll be an essential travel partner for your next trip. Make sure to download them for offline use (also part of the new update) so you can have them at the ready in case there's no in-flight wifi.
Wishing you all an active week!